Warm Summer Greetings from Denmark
Oh, how I love the summer months in Denmark. The days are so long, and all these wonderful hours of sunlight really boost my mood and energy level. I'm a bit like a sunflower: I turn towards the light and thrive in it!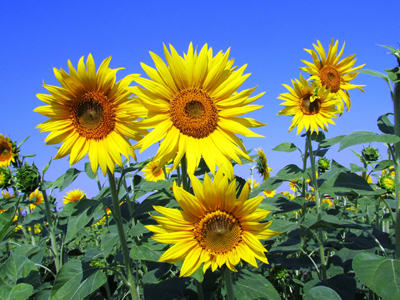 I've been away from website work for a couple of weeks during the summer holidays, but now I'm back and will share with you what has happened during the last couple of months, and what I'm planning to have happen in the nearest future.
What's Going on at Positive Parenting Ally:
Parenting Interviews Continued
In my last newsletter I told you about an exciting new project I had just started. This project consists of me interviewing parent coaches from all over the world who I feel have something important to say about parenting.
These wonderful coaches differ in personality, personal experiences, as well as focus areas but share an overall approach of love-based and empowering parenting, communicated from a high level of consciousness and clarity.
Since my last newsletter issue, three new interviews with three lovely ladies have been conducted:
1) In the first interview, I speak with Natasha Solovieffn (a public health nurse, mother, and owner of OMG Parenting).
In this interview, Natasha, among other things, empathetically talks about the high price of worrying and the heavy weight of parenting guilt. Drawing from her own experiences, she also tells you how you can identify such challenging patterns and via a four step method get closer to peace and love.
You can read Natasha's interview here.
2) In the second interview, I talk to Kylie Riordan (a healer, writer, mother, "kindness catalyst", and blogger on KylieRiordan.com).
Speaking in an uncensored way directly from her heart and intuition, Kylie tells us how we may parent more authentically and in alignment with who we really are: beings imbued with unlimited kindness and love.
You can read Kylie's interview here.
2) My third parenting interview is with Christina Fletcher (a spiritual parent coach, homeschooler, mother, and owner of the website SpirituallyAwareParenting.com).
In this interview Christina shares with us what it means to be a spiritually aware parent and how parenting with the knowledge of 'the law of attraction' can make spiritual parenting different from and more rewarding than 'normal' parenting.
You can read Christina's interview here.
These were the parenting interviews for this time around. I really hope you will enjoy reading them as much as I enjoyed making them.
So far, six interviews have been conducted and it's been so much fun that I will continue doing that alongside other things for a while still.
If you have an idea as to who you'd like to see interviewed by me, you're more than welcome to contact me. Also if that person is yourself! I'd love to hear from you!
Summer Discount on Christina Fletcher's Course, Spiritual Kids

A couple of days after I had the thought of contacting Christina Fletcher (my third interviewee above), she contacted me. I was quite surprised. We'd never been in contact before, so what a funny coincidence that was! Maybe the universe had a hand in that, who knows! 😉

Anyway, in her mail Christina asked me if I'd like to do a review of her new parenting course, Spiritual Kids. She also said that if I liked it, I could become an affiliate of it.

I thought, sure, why not! It might be fun, too!

So I went through the whole course myself and my son participated, too, and afterwards I wrote a very long and detailed review of it. And since I really liked it and could endorse it, I decided to become an affiliate of it.

You can see my review here.

My conclusion was that Spiritual Kids is a truly wonderful parenting course perfectly suited any growth loving parent ready to empower themselves and their family by consciously and effectively tapping into their own inner wisdom and thereby passing on spiritual tools to their children.

And the reason why I'm mentioning the course in this newsletter is that that during this month of July, Christina has made a large summer discount. Now you can buy this six week online course, Spiritual Kids, for only $90 (the normal price is $120).

To learn more about the course, you can go to Christina's website, or as I mentioned, read my extensive review.
Product Development News: Alphabet Books En Masse
Alongside conducting interviews and writing articles for my site, I've also been writing, drawing, and taking photos for a couple of ebooks in different genres.
Among other things, I'm working on a parenting book but it will be a while still, before it sees the light of day.
However, as I like to shift between using different aspects of myself in my work, I also enjoy playing around with projects that don't involve my mind in the same way as writing an adult orientated book does. It's simply important for my well-being to also involve my artistic, aesthetic and visual side on a regular basis. I need to keep a balance between my different ways of being and doing.
Thus I decided to make some alphabet books for children. Such book projects allow me to draw, make rhymes as well as take and edit photos - all of which make up a nice, healthy, and valuable contrast to my more analytical and intellectual way of working.
Right now, I've got a dozen or so finished alphabet books all ready to enter the process of creating the ebook formats: pfd, epub, and mobi.
I've heard that formatting books is quite a laborious (and frustrating) process that tends to take longer than making the actual books. I hope that is not the case for me, but we'll see. I'm staying positive, taking one step at a time!
That was it for now - if you have any ideas or feedback for Positive Parenting Ally, you are always welcome to contact me. I welcome everything you may have to say.
Thank you for now and until next time. Warm regards,
Birgitte
Positive Parenting Ally
---