I Am a Recovering "Big Giant Mess"
by Tammy
(Massachusetts)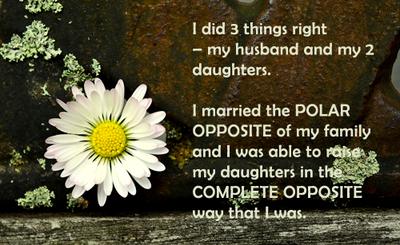 Visitor's story:

Check out my colorful biography that I can now put together without feeling like a victim!

• My narcissistic mother was deaf from birth. I was a slave to her emotions and her handicap.

• In addition to her NPD, she used her deafness as a weapon to make me feel guilty 24-7.

• My parents divorced. My father remarried and then abandoned us for 10 years.

• My mom married my stepdad who was an emotionally immature non-violent sociopath – which I guess is why he could watch her ruin our lives and be fine with it.

• I was the "perfect" child.

• My brother was the scapegoat – sadly he married my "mother".

Can you say Codependency, Abandonment issues and Attachment trauma all in one breath?

My upbringing caused me to develop an addiction to OUTCOMES and ANGER. I did not know myself or what I wanted or what I liked or how I felt. I would just make a decision to "go for something" and lose my mind when it did not work out as planned.

I was a tragic perfectionist and had to win at all costs. This caused me to make several bad decisions and bad career choices that were costly and painful. I was always disappointed with myself. I wore guilt and shame like a badge of honor for DECADES

I did 3 things right – my husband and my 2 daughters.

I married the POLAR OPPOSITE of my family and I was able to raise my daughters in the COMPLETE OPPOSITE way that I was.

For some reason, I was able to raise them to be very well-adjusted people by simply doing the opposite from my family. I could give them what I never had but was always unable to be happy in my own head. They often say to me, "Mom we think you are great why don't you think you are great?"

I discovered all these great resources online and I study them every day. I meditate twice a day and it is life-changing. I actually would like to go back to school and become a psychologist and help people who grew up like me!
Join in and write your own page! It's easy to do. How? Simply click here to return to Narcissist Parenting Story.
---

Want to stay in touch and get the latest news?
Sign up for my free newsletter