Making frightening Halloween finger foods and following horrifying Halloween recipes for kids is heaven (or a pleasant kind of hell, it is Halloween after all 😉) for the creative fun loving brain.
If you have decided to go all out and throw a party, or even just want to have a bit of fun with your kids, then you're probably on the lookout for some fun and easy Halloween recipes for kids to inspire you and stimulate your imagination.
However, if you're anything like me and have like a million stuff on the go at the same time, you'd probably still prefer the recipes to be fairly easy and quick to do, while still being nutritious and healthy.
On my list of healthy Halloween finger foods for kids below, you will find ideas for creative Halloween snacks that won't reap the hard-grown harvest of your wallet or steal away much of your precious time. Also since 'healthy' is also prerequisite, you don't want the the snacks to contain any white sugar.
Many of the ingredients for these snacks, you probably already have in your house, and the preparation time is minimal as most of the Halloween recipes for kids include foods that you don't need to prepare much (i.e. no oven time, boiling time or frying time (except for the green ghastly poisonous pancakes 😉 ).
Ready to get your hands dirty (or bloody) or something entirely else inappropriate for cooking, then please, dive into my list of healthy Halloween snacks for kids.

Fun Halloween Finger Foods for Kids That Are Cheap, Easy and Healthy
Boooh ... Bandaged Mummy Sandwich
- Healthy Halloween Recipes for Kids
Going for a funny but scary AND healthy Halloween snack, this mummy sandwich is very easy to do and your kids can easily take part in the creative decoration process.
All you need is: rye bread (you can use any type healthy bread really, rye bread is just the unofficial king of healthy bread types here in Denmark), cheese for bandages, red pepper for blood splashes, and e.g. olives or blueberries for eyes.
All that is required here is a bit knife work, cutting and slicing up the foods, and then simply decorating the bread until a rather cute bandaged mummy appears.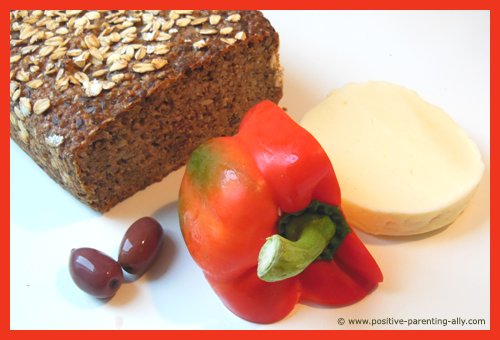 ---
RIP Halloween Coffin Sandwich
- Fun Halloween Finger Foods for Kids
Under normal circumstances peanut butter combined with banana is a sure winner so why not transform it into a hilarious RIP coffin sandwich that your kids will love.
Besides only consisting of only 3 ingredients, all of which I had on stock, this one of Halloween recipes for kids took me less than five minutes to do. How about that?
In this one of Halloween recipes for kids, we will once again make use of our good old buddy, the rye bread.
Simply cut a slice of bread.


Spread some peanut butter onto it.


Take a knife and cut the sandwich into a coffin shape.


Take a banana and cut some of it (you don't really need much) into thin slices.


Take a pointy knife and cut the letters "R", "I" and "P" out of the banana slices.


Place the banana letters on the peanut butter.


Voila. Serve!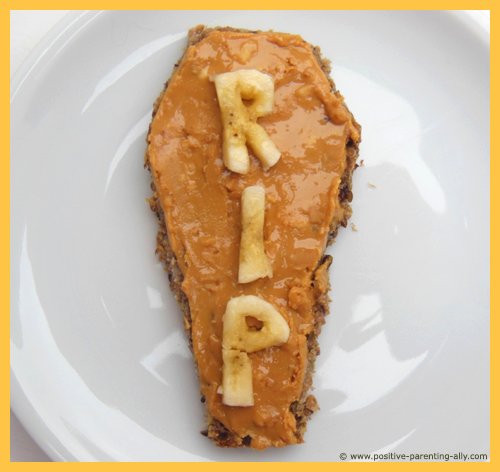 ---
Scary Spider Sandwich
- Healthy Halloween Snacks for Kids
This one of healthy Halloween snacks for kids, I'm pretty proud of myself. I'm quite in love with the big staring eyes on this scary spider sandwich.
All ingredients are healthy and organic: rye bread (yes, I know, rye bread again 😉), sausage, carrots and almonds giving your kids both healthy carbs, protein and fat, all in one go.
Cut two slices of rye bread and cut out a circle from each slice.


Cut some slices of sausage and put them in between the two round pieces of bread. (You can put some butter on the bread if you find them too dry on their own.)


Peel a carrot and cut it along its longest side to make six long and thin carrot sticks. Stick these into the sandwich as legs.


Take two almonds. One almond you cut in half along its longest side. The other one you just cut along its shortest side. Arrange the almond pieces as shown on the picture below.


You're done! Enjoy!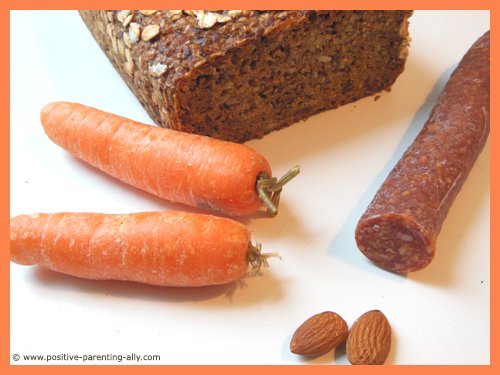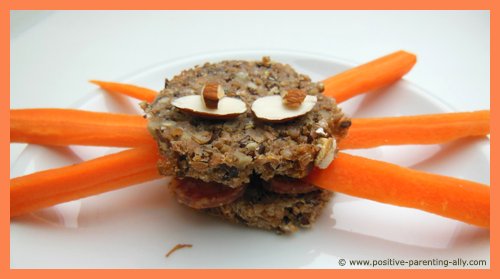 ---
Monster Mouth with Rotten Teeth
This example of healthy Halloween finger foods for kids is extremely fast to do and so easy to make that your kids can do most of it themselves.
All you need is a carrot, some cream cheese and some raisins. Here is what you do:
Peel the carrot and slice it in half along its longest side.


Spread some cream cheese onto the flat side of the carrot sticks.


Decorate the mouth with some rotten raisin teeth.
---
The Cute Albino Pita Mouse
- Healthy Halloween Snacks for Kids
This one of Halloween recipes for kids is sure to be a hit, and again it's so easy to make.
All you need is a pita bread, a carrot, peanut butter (paté or cream cheese or whichever kind of spread your kids like) and raisins.
Cut away a small part of the pita bread (so there is a flat part to the round bread), and then separate the bread parts, and spread your peanut butter or cream cheese onto one half.


Peel the carrot, take a long peal and place it inside one half of the pita bread parts. Then close the pita bread. (you can also stick on the tail later, if you find that easier).


With the peanut butter or cream cheese as glue, stick on a raisin on each side of the pita bread and you'll have eyes.


Try to get the mouse to stand by itself, using the flat part of the pita bread as a base.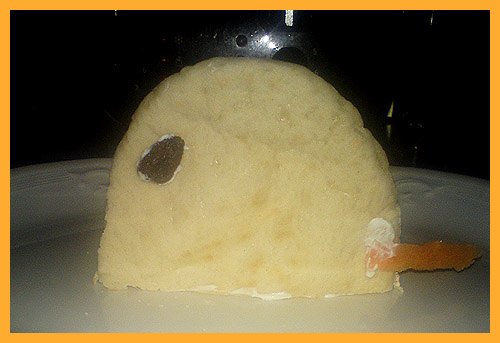 ---
Gross Green Witches' Fingers
- Fun Halloween Finger Foods for Kids
This one of Halloween recipes for kids adds a truly fantastic witchy touch to your Halloween fare.
Here is what you need: bread sticks or carrots, cream cheese, almonds, avocado, salt and Thai curry (voluntary).
Peal the avocado and mash it. Mix in a bit of cream cheese and add a bit of salt. I like to add Thai curry too, as it just gives it a bit of a pleasant bite. My son loves that. However, if your kids are a bit on the sensitive front, you might want to hold back on that.


Then simply cover half a bread stick or half carrot with the avocado cream.


Then add an almond at the end of the stick as a disgusting dirty nail.


The result, some seriously scary witches' fingers - complete with finger nails. This Halloween snack recipe is also another treat you can hand out to trick-or-treaters.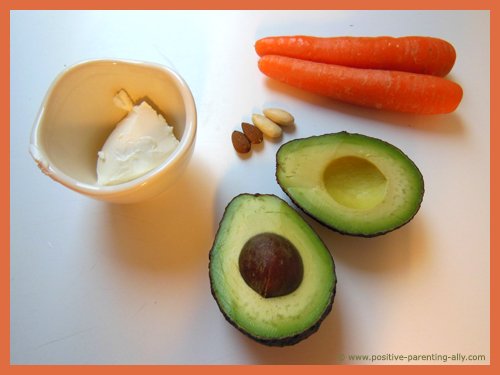 ---
Ghastly Green Poisonous Pancakes
- Healthy Halloween Recipes for Kids with no Sugar
These pancakes are great not only for Halloween but for all year around if you think your old-fashioned pancakes need colorful twist.
What do you need to do?
Very simple: just add a bit of green food coloring to your usual dough. Keep on adding until the color is bright green.
In order to make the pancakes a bit more healthy, I mix in some whole grain flower with the traditional wheat flower (about 50/50), and I leave out the sugar altogether. I really don't find that pancakes need sugar (and neither does my son, apparently, as he loves my pancakes).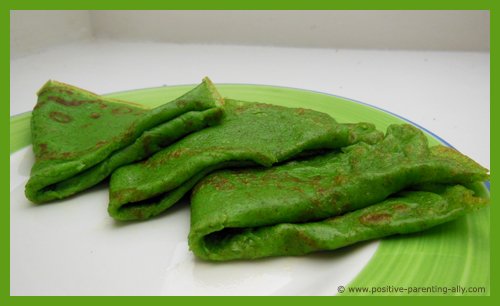 ---
Mouldy Rotten Green Popcorn
- Fun Halloween Snacks for Kids
Again, this easy Halloween snack recipe is quick to make, costs very little, and is bound to be a hit with trick-or-treaters of all ages.
Either buy a large bag of plain popcorn from the grocery store or make your own.


Then add a small amount of green food coloring and you should end up with what looks like years old moldy popcorn.
You can simply place this type of Halloween party snacks in a large bowl, and ask the kids to help themselves, or add a hand-sized portion to sandwich bags.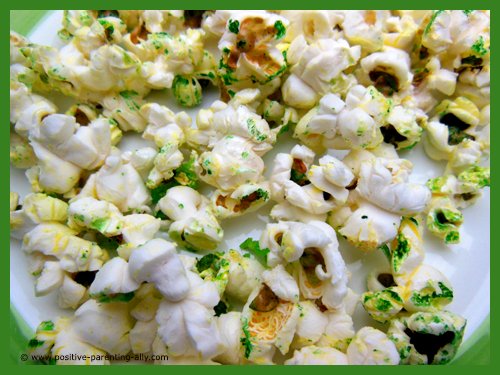 ---
Kickin' Energy Mix
- Healthy Halloween Snacks for Kids
These healthy Halloween snacks for kids are great to just have in bowl on sofa table at home, or you can fill a few plastic bags with them and let your kids snack on them while being out on their trick-or-treat tour.
All you need to do is to mix the ingredients together e.g. apple pieces, pumpkin seeds, dates, almonds, walnuts, Brazil nuts, peanuts, blueberries or whatever healthy snacks you may have to make the energy mix of your choice.


Sprinkle with cinnamon to add a sweet twist, or if you are feeling brave add a prepared spice rub to add a little heat.
This Halloween snack recipe offers taste and nutritional value.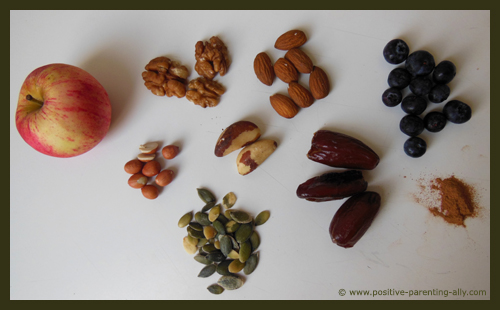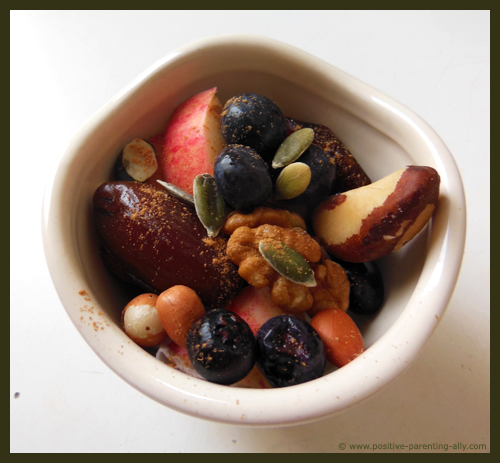 ---
Spooky Bloody Halloween Fingers
- Fun and Healthy Halloween Recipes for Kids
These bloody fingers wrapped in bandages (wholegrain tortilla) are just so realistic, that my son yelled, 'Mom, they're just gross'.
Now, that's a compliment when we're talking Halloween snacks 😉 And they're really simple to do.
You just need three ingredients: organic sausages, tortilla (you can do wholegrain if you want a healthier version) and ketchup.
Take the sausages and cut them in half. Now, with a sharp, pointy knife, you carve out a piece of the sausage in the shape of a nail (take a look at the second picture below to see what I mean).


Then carefully place a bit of ketchup in the nail-shaped hole so it looks like red nail polish.


Then cut the tortillas into long strips (they are supposed to look like bandages), and wrap them around the opposite end of the sausage.


Smear some ketchup onto a plate and place the bloody fingers on top of this blood bath.


Prepare yourself for some disgusted reactions!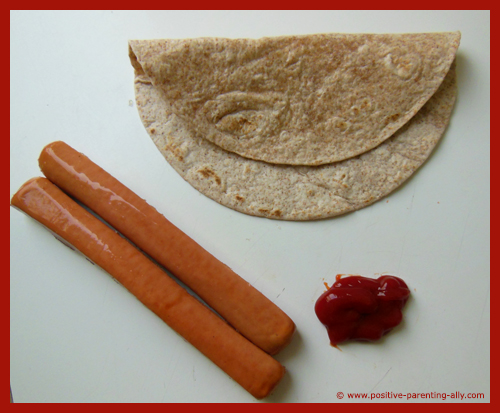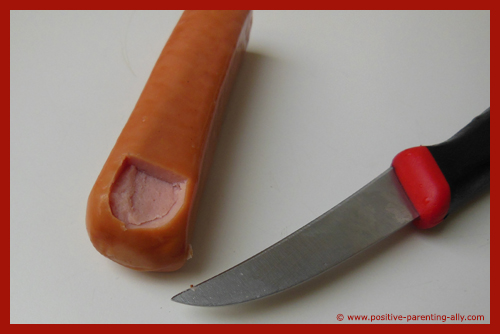 The above picture shows how to cut out the hole for the nails that you will fill with bloody red nail polish (ketchup).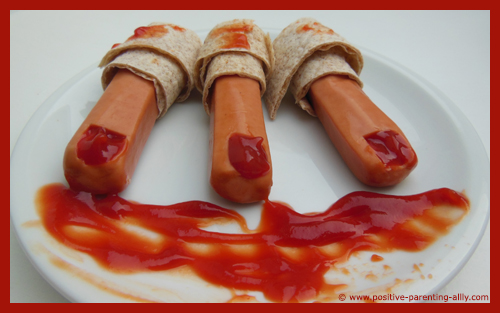 And voila, here are three creepy, disgusting bloody sausage fingers that my son, despite his disgust, found irresistible. 😉
---
These disgustingly bloody fingers mark the end of these Halloween recipes for kids. I hope you found something of inspiration that you can use to make this a fun, happy and healthy Halloween for your kids.
If you want more inspiration for healthy snacks for kids in general, please dive into my kids snacks archive below. Enjoy!
Your Positive Parenting Ally,
Birgitte
---

Want to stay in touch and get the latest news?
Sign up for my free newsletter
---
Parent Coaching
- For Inner Peace, Clarity and a Deeper Connection to Your Child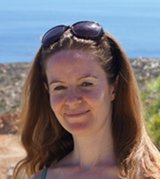 Being a parent can feel like a double-edged sword. Life with kids may feel like the greatest gift you have ever received, while at the same being hugely challenging, often leaving you confused, stressed and overwhelmed.
When we feel like this, we've lost touch with ourselves. We can't hear our own inner voice, and it's difficult to know what is 'right' for us and how to act.
I offer in-depth parent coaching to help you regain your balance and get back in touch with yourself. From a place of inner peace and clarity, your will find your own answers which will help you reconnect with your child from a place of unconditional love and acceptance.
Read more about my parent coaching here.