Healthy Simple Snack Recipes for Kids - Quick to Make with only a Few Ingredients
Oh, the internet, always ready to serve in less than a second. Who hasn't tried "simple snack recipes" or "quick snacks for kids" or "easy kids snacks" something similar in Google when looking for fast mini meal fixes for our kids?
Just yesterday, I really didn't feel like cooking, and since time was short, I typed in for "easy quick dinner meals" in the Google search field. And yet again, the internet didn't disappoint, and I found a meal I could prepare in 15 minutes. In times like this, the internet is such a powerful ally.
So having benefitted greatly from quick, healthy recipes found online, I feel it must be my turn to pay it forward to keep the positive spiral going. 😉
However, not only do I want to provide you with quick snack recipes for kids that are delicious and simple with typically only a few ingredients, I also want them to be healthy and filled with good energy.
To me, snacks for kids need to be packed with the right kinds of carbs, fats and protein in order for me to want to bother spending time on making them at home. Otherwise I feel I might just as well buy them processed and spare myself precious time.
This means that these recipes for healthy snacks for kids I will present you with contain no added sugar or preservatives.
Apparently according to the National Institutes of Health, on average 40% of children's energy stem from empty calories such as solid fats and added sugars, and 10% of those 40% stem from from sugary drinks. How about that?
So let's try and change those statistics. I mean, about half of what our kids put in their mouths come from empty calories, so it really shouldn't be that difficult to push those number a bit in the right direction.
So with no further ado, let's take a look at some simple snack recipes for kids to do in no time.
---
Healthy Simple Snack Recipes for Kids
- How to Make Delicious Snacks with only a Few Ingredients
Ham Pin Wheels as Quick After School Snacks
This quick after school snack, is a bit more filling compared to many other types of in-between meal snacks you'll find on these pages.
I find that such a snack works wonderfully as a pre-sports booster. It provides efficient amounts of energy without leaving you feeling 'heavy', like running around with a large stone in your belly.

All you need to make this snack is a whole grain tortilla, cream cheese, lean ham or chicken, raisins and bell pepper (it doesn't have to be those ingredients at all, you can fill your tortilla with whatever you feel like).
Fold out your tortilla and spread cream cheese on it.


Place the meat, raisins and bell pepper on it.


Then roll up the tortilla, and cut it into finger friendly wheels and serve.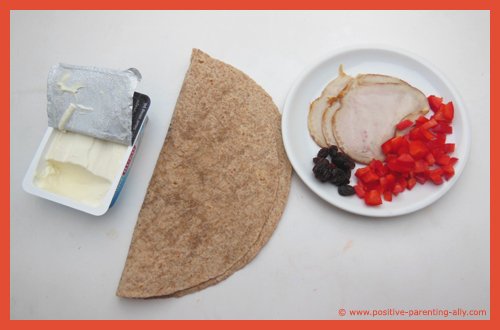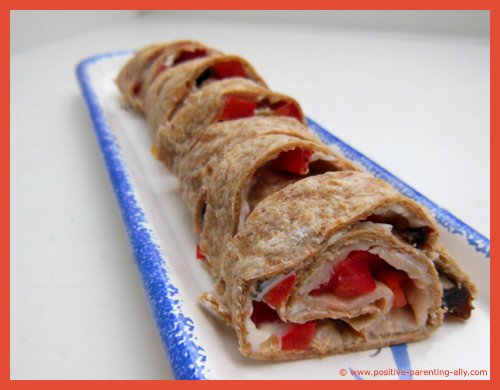 ---
Healthy Fruit Smoothie with no Added Sugar
You can't really go wrong with a smoothie: You get to stuff a lot of different fruits - even vegetables - into your kids in one go, and it tastes like heaven.
I usually make my son's smoothies with plain, no-sugar yoghurt. I find that the fruits are sweet enough in themselves, and contain plenty of natural sugar, so no added sugar is really necessary.
I then add a variety of different fruits - basically whatever is in the house: in this smoothie version I used grapes, blueberries and apples.
Sometimes I also sneak in some vegetables e.g. carrots - or ginger to give it a bit of a punch (but then you need to use a juicer as well).
Just cut out your fruits and vegetables into chunks and blend them with the yogurt.


That's it. Really simple.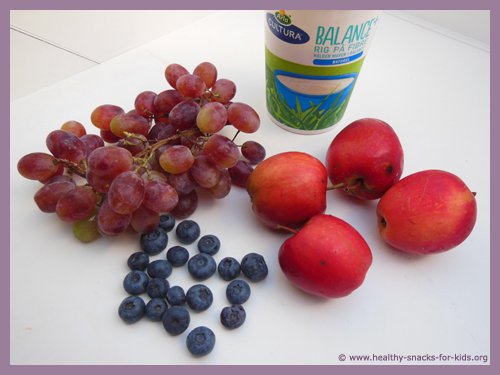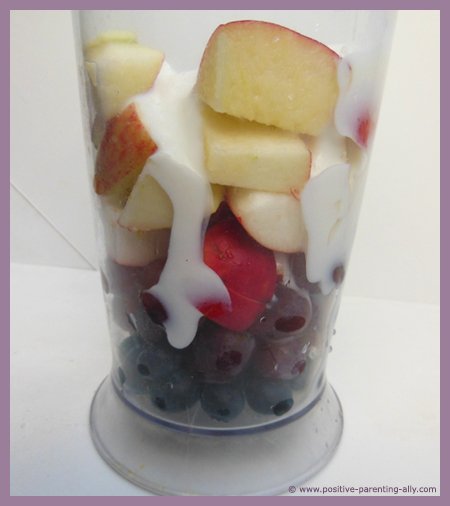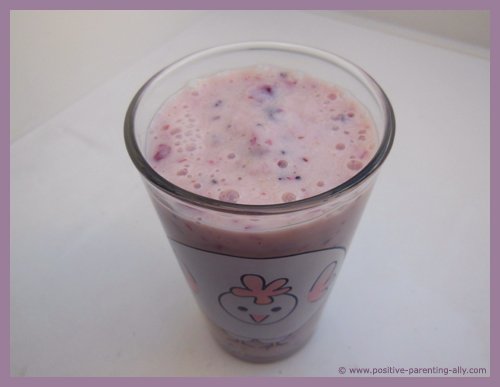 ---
Amazing Avocado Almond Crackers
I'm lucky. My son is a total sucker for avocado. Even though avocados are quite pricey (at least in Denmark) and are a bit of a joker to buy (you never know how they look inside), I buy these green beauties as often as I can.
Packed with only healthy fats and rich in omega 3 and lots of vitamins, many experts agree to name this fruit a superfood.
As you will discover on these pages of simple snack recipes, I use avocado quite a lot, most often mashed as a dip or spread, and this snack is no exception.
These healthy kids snacks are so easy to do and really nutrient. All you need is an avocado, a bit of cream cheese, some whole grain crackers, and some almonds or nuts.
Mash the avocado and blend in some cream cheese.


Spread it on some crackers and top them off with almonds or nuts as a creative, protein rich decoration.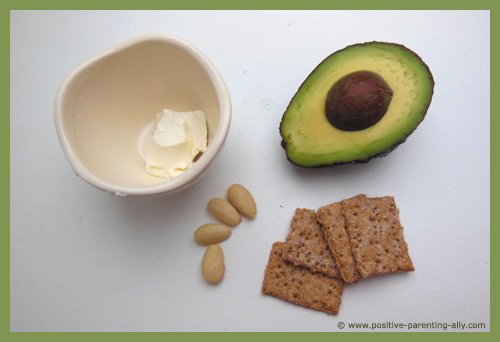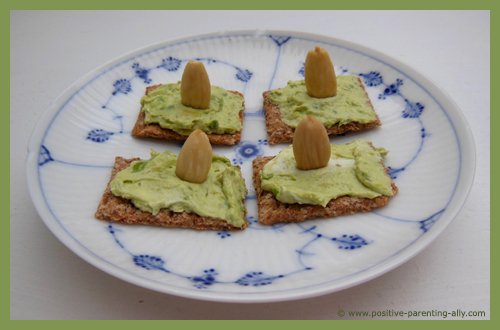 ---
Quick Pita Snack that Packs a Punch
Just like whole grain tortillas, whole grain pita bread snacks are great if your kid is just a little bit more than peckish, or really needs an energy boost e.g. just before doing sports.
Just like what is the case with the tortillas, you can fill the pita bread with whatever vegetables and protein source you have on store in your fridge.
As you can see below, what I had available when I made this snack was pretty limited, yet I managed to get a nice relatively even mix of both fats and protein (cheese) and carbs (bread and bell pepper).
Cut the pita bread in half and fill it with whatever vegetables you have in the house that taste well when heated, e.g. bell pepper and tomatoes.


Then mix in a bit of grated cheese and put it in the oven until the cheese melts (and if you're in a real hurry, you can just stick it in the microwave. The result isn't as nice, but it's definitely doable in my opinion. Cold pita bread equals a very dry mouth experience)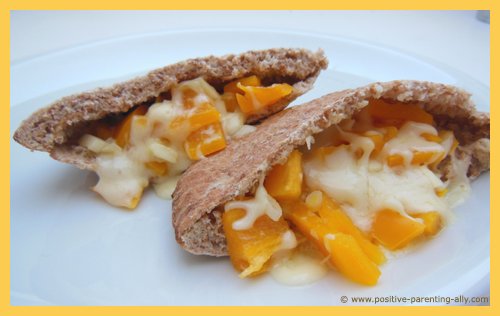 ---
Healthy Frozen Snack Melon Popsicle
These kinds of healthy fruit popsicles are nearly as sweet as the sugary versions, but they are so much healthier as they consist of nothing but pure plain fruit.
All you need is a melon (you can use bananas, too) and some popsicle sticks.
Cut out the melon in the shapes or chunks that you want to freeze and put a stick in them.


Throw them in the freezer until frozen.
That's it!
As simple snack recipes goes, it really doesn't get any simpler than that. And only one ingredient!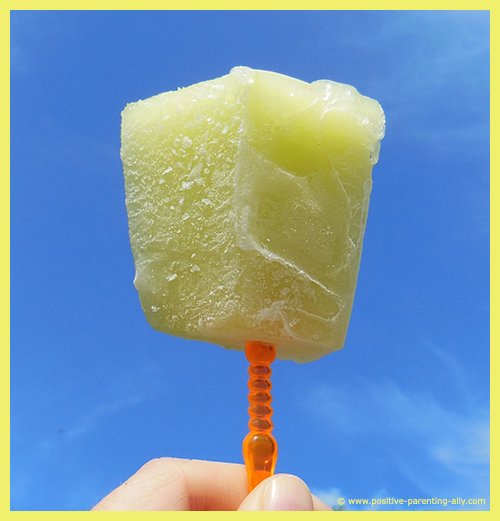 ---
Crispy Black Beans Snacks
This healthy snack can be made with many different kinds of beans or legumes. I've used chickpeas and green beans too, and they're just as delicious.
These are the kinds of snacks that are great to leave on the sofa table for the entire family to nibble on.
And yet again, the ingredients list is as short as it can be. You only need beans and a bit of salt.
Find your preferred kinds of beans (here you can see that I've used black beans), and pour them into a sieve to get rid of the water.


Pour the beans onto a baking tray and sprinkle with a bit salt.


Put the beans into a well-heated oven, and observe frequently to make sure they don't burn.


Once they look crisp, take them out, and let them cool off a bit.


Serve!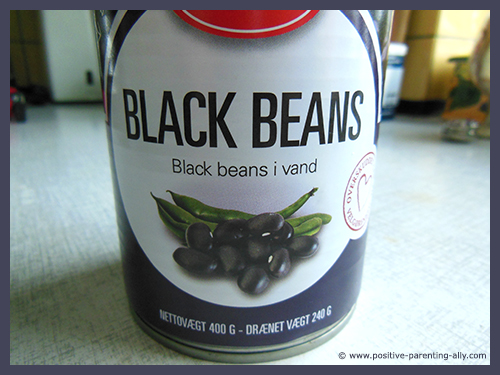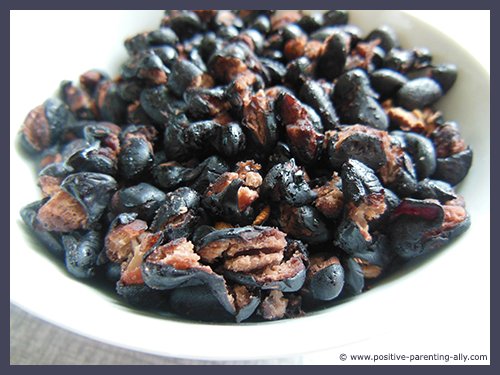 ---
Veggie Sticks and Avocado Dip
This one of healthy simple snack recipes for kids is also amazingly easy to do.
All you need are some vegetables that can be cut into sticks (here I have used a carrot and some cucumber, but you may just as well also use e.g. celery or bell pepper), an avocado and some plain yogurt.
Cut out the vegetables into long sticks.


Mash the avocado and mix it with a bit of yogurt and a pinch of salt.


Serve your kids this colorful rainbow snack.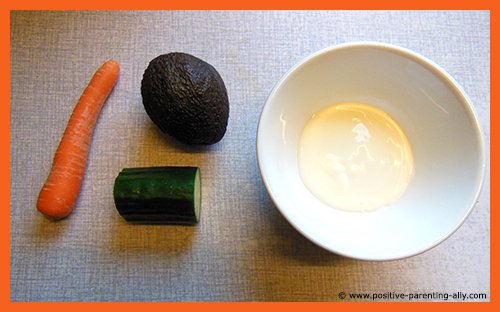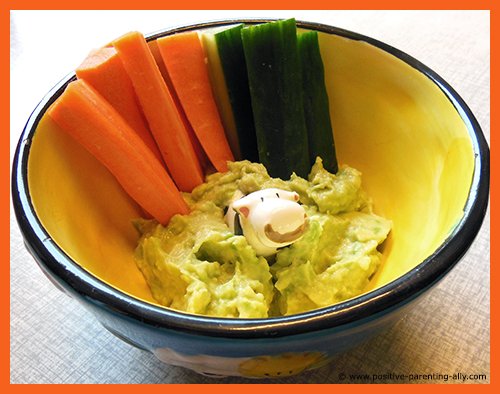 I hope you enjoyed the tour through these healthy simple snack recipes for kids.
If you want more inspiration to make healthy snacks for kids with no sugar, please have a go at some of my other kids snack pages. You'll find links to them right down below this article.
Bon appétit!
Your Positive Parenting Ally,
Birgitte
---

Want to stay in touch and get the latest news?
Sign up for my free newsletter
---
Parent Coaching
- For Inner Peace, Clarity and a Deeper Connection to Your Child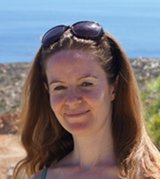 Being a parent can feel like a double-edged sword. Life with kids may feel like the greatest gift you have ever received, while at the same being hugely challenging, often leaving you confused, stressed and overwhelmed.
When we feel like this, we've lost touch with ourselves. We can't hear our own inner voice, and it's difficult to know what is 'right' for us and how to act.
I offer in-depth parent coaching to help you regain your balance and get back in touch with yourself. From a place of inner peace and clarity, your will find your own answers which will help you reconnect with your child from a place of unconditional love and acceptance.
Read more about my parent coaching here.