Did you know that it's not that difficult to create birthday invitations, and that you can make your own birthday invitations without needing a whole lot in the way of graphic design skills or a talent for using Photoshop?
You will find that there are many free printable birthday invitations that you can download which will make your life a whole lot easier.
However, it can be a lot more fun for you to make your own invitations and as a plus, they are are guaranteed to be created just the way you want them! What follows now is an illustrated guide on how to design an create birthday invitations with a simple, tasteful look.


---
Tips to Create the Best Birthday Invitations at Home
If you want to take a stab at designing your own birthday invitations at home, it can be a good idea to keep a few simple graphic design principles in mind:
White Space - Most people that make birthday invitations fail to use enough blank space, but the truth is that a birthday invitation that is too full of pictures, designs, often end up looking too cluttered. So leave plenty of blank space between the various elements of the card, as that will help it to look balanced and well designed.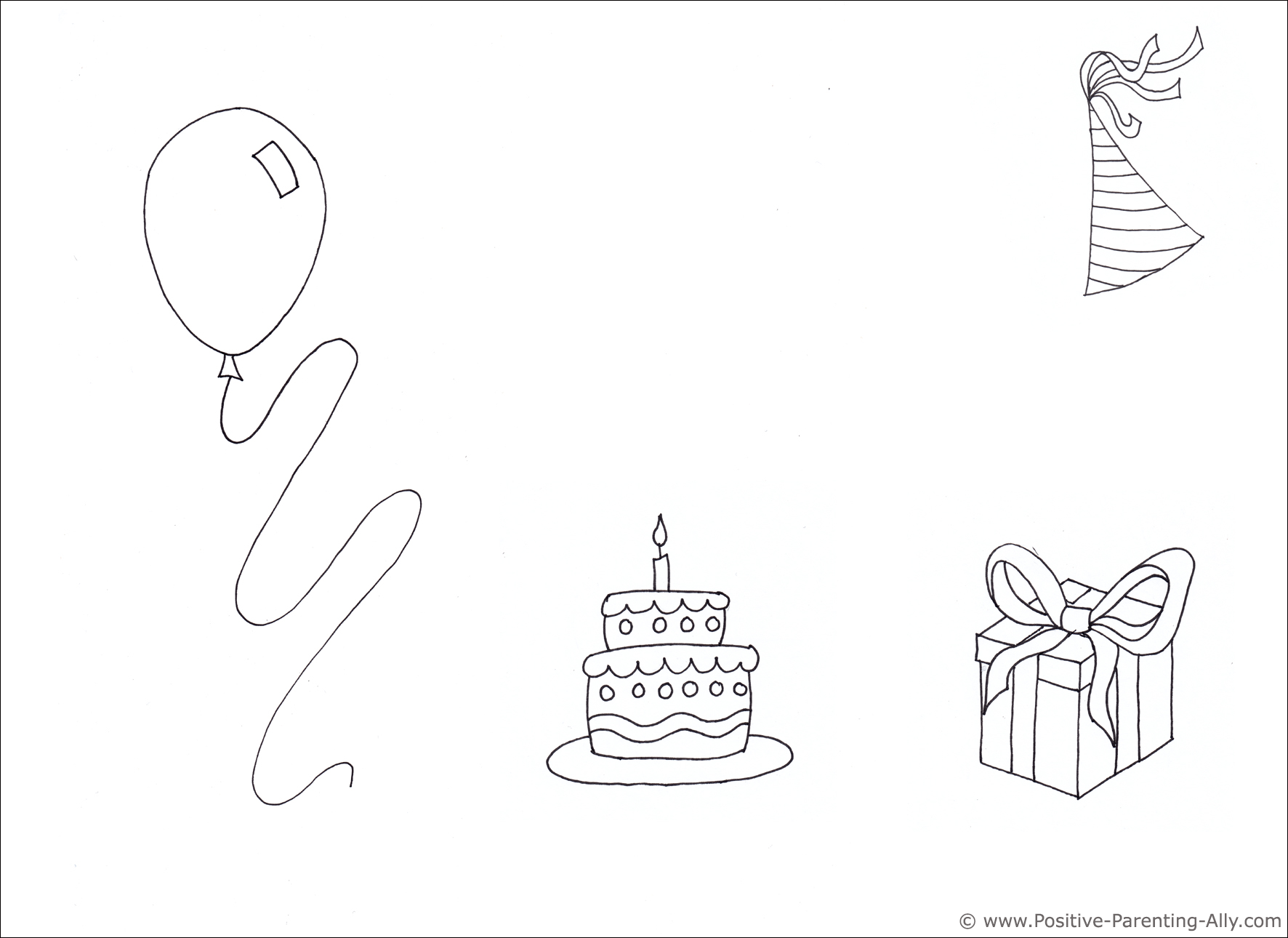 Colors - Don't get too wild with so many colors that your card looks cluttered, but consider a card of many tones of the same color or just a couple of simple colors used tastefully.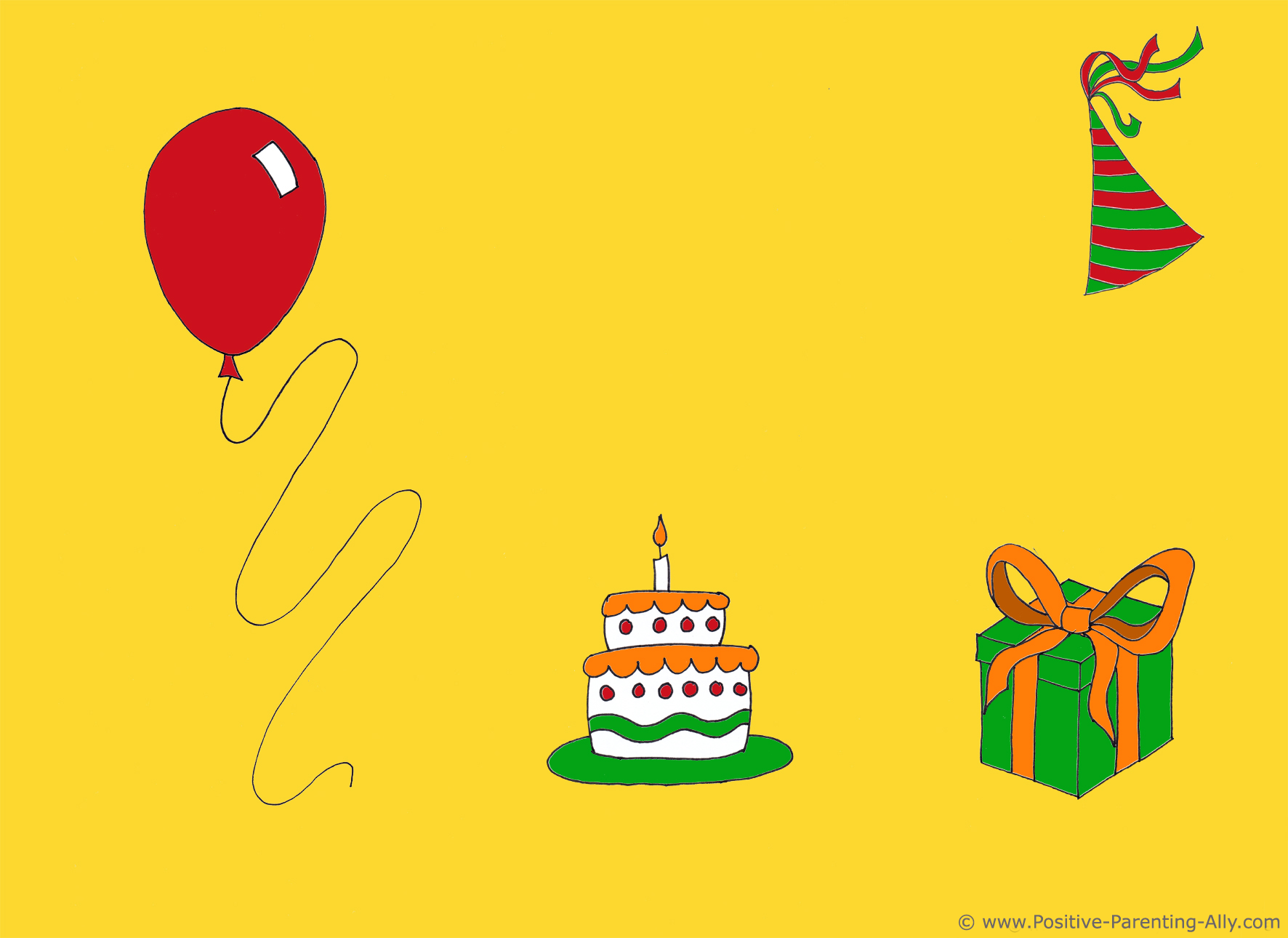 Decorations - There are all kinds of decorations that you can use on cards, such as clip art, miniature silhouettes, shades etc. However, it's important that you don't get too crazy with these decorations, as they can actually make your invitation look quite cluttered. Use them sparingly, and you will find that they will have a much more powerful visual effect without making your card look too busy. Below you'll see that I've just added a bit of shade, nothing more.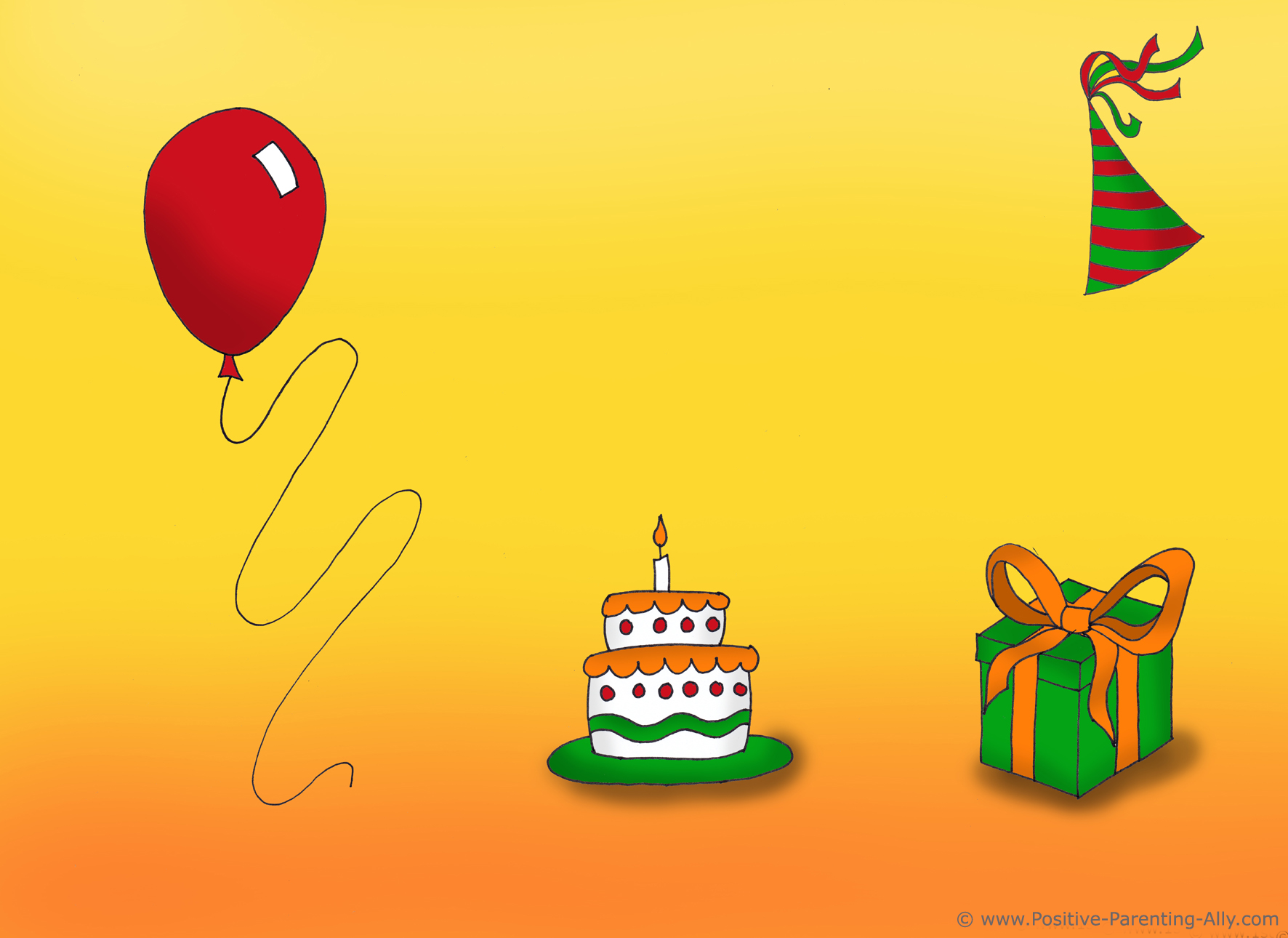 Borders - Don't forget most invitations look great with a border. A border is like a safe zone where there are no decorations, no text, and nothing that will clutter up the card.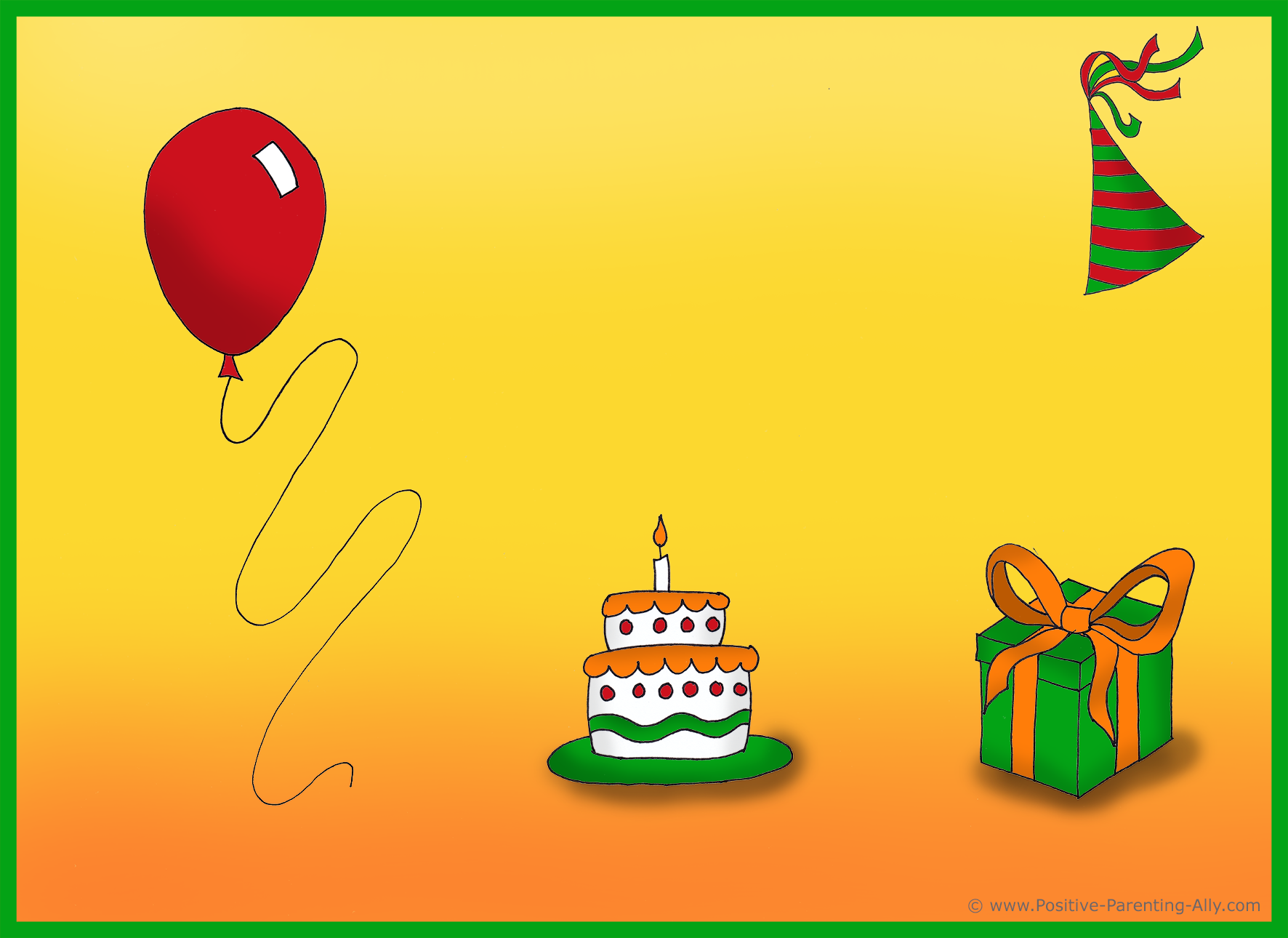 Text - Choosing the right font will be the key to making your invitation look as professional as possible. Make sure that the color of the text will also fit with the invitation, and it has to be dark enough to be seen clearly.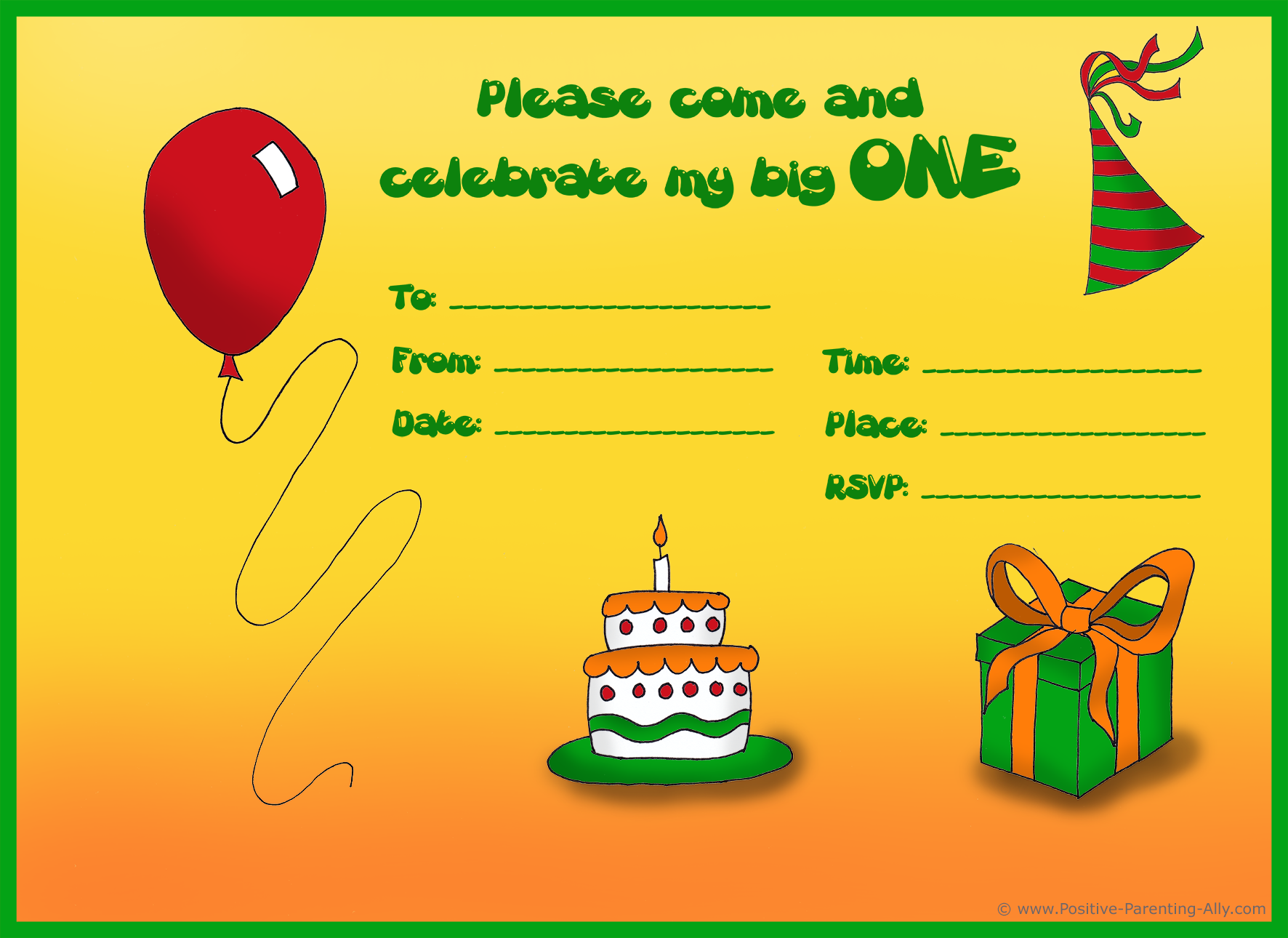 Frame Boxes - If you want to bring out a certain aspect of the birthday invitation, put a thick frame around the box to emphasize it. You can usually add lines to a text box easily using any of the programs you will use to create the invitations, and it will be a good way to make certain elements of the design pop.




Photos - Using photos for the background of your birthday invitations can be a great idea, though it may be harder to add text to these invitations. You can make the photo a bit more opaque or transparent, which will make it a great background. Just make sure that the photo is sized correctly for the invitation, and that you aren't stretching it too much either lengthwise or widthwise -- it will make the photo look elongated weirdly.
---
Some Fun Birthday Invitation Theme Ideas!
If you are planning your child's birthday party, no doubt it's time to come up with some themes - themes that will help you to create birthday invitations.
Here are some fun theme ideas for you:
Sesame Street - For those that grew up watching Sesame Street, this has always been one of the best party themes. Using Sesame Street is one of the best ways to add a lot of color to your party, as the characters are all very colorful. You can find all manner of clip art on Google Images, and this will make it easier for you to make a great Sesame Street birthday invitation. It is also one of the most popular themes for party supplies.

Feel free to download and print this free first birthday party invitation with Elmo from Sesame Street.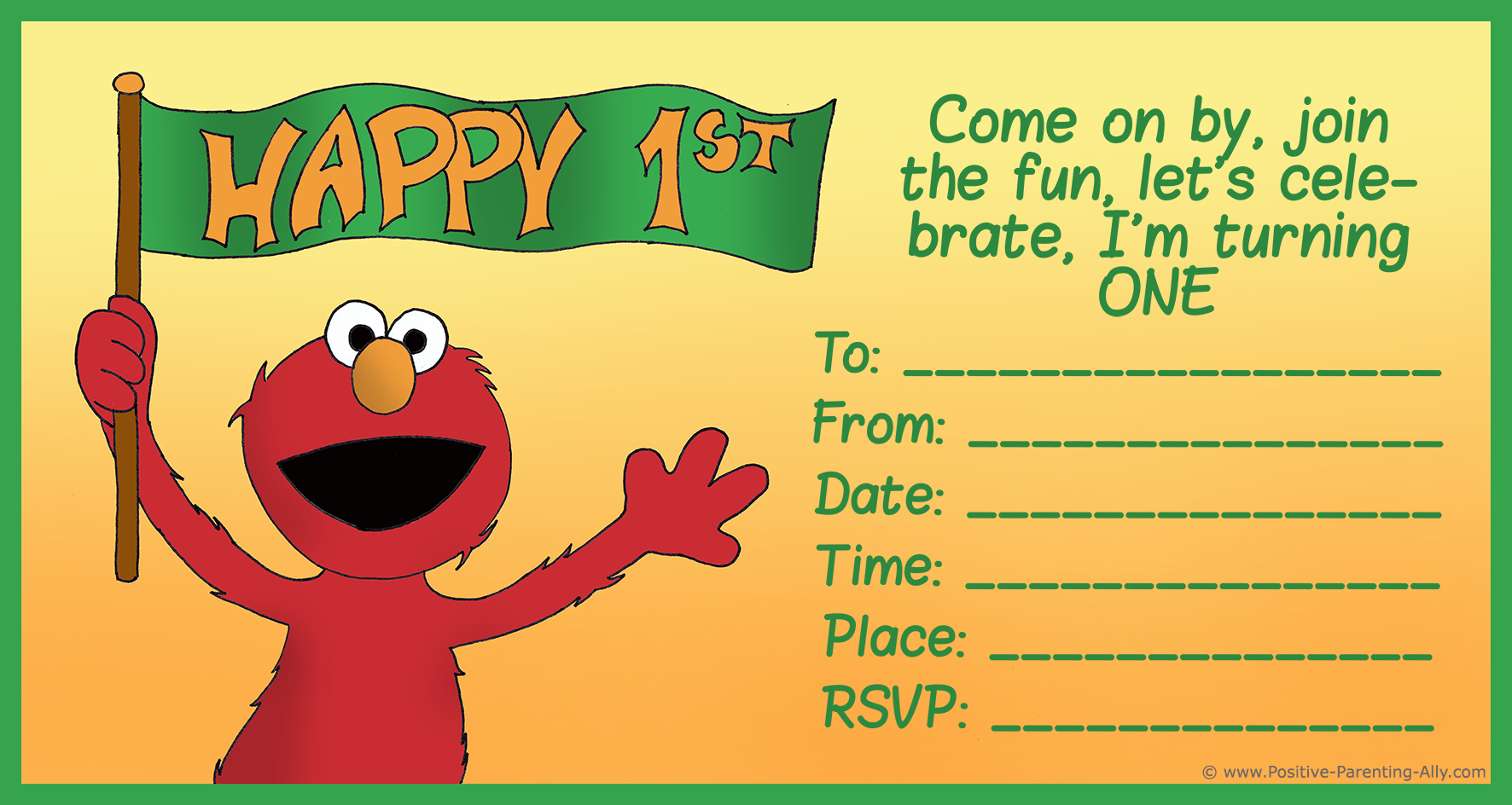 Barney the Dinosaur - For the little dinosaur lovers, Barney the Dinosaur is considered one of the most popular themes - as well as one of the most colorful! You will find that most party supplies stores will have Barney plates, cups, etc., and making a Barney birthday card will be easy.

If your kid is all into dinosaur birthday invitations and Barney, you're welcome to download this fun printable birthday invitation.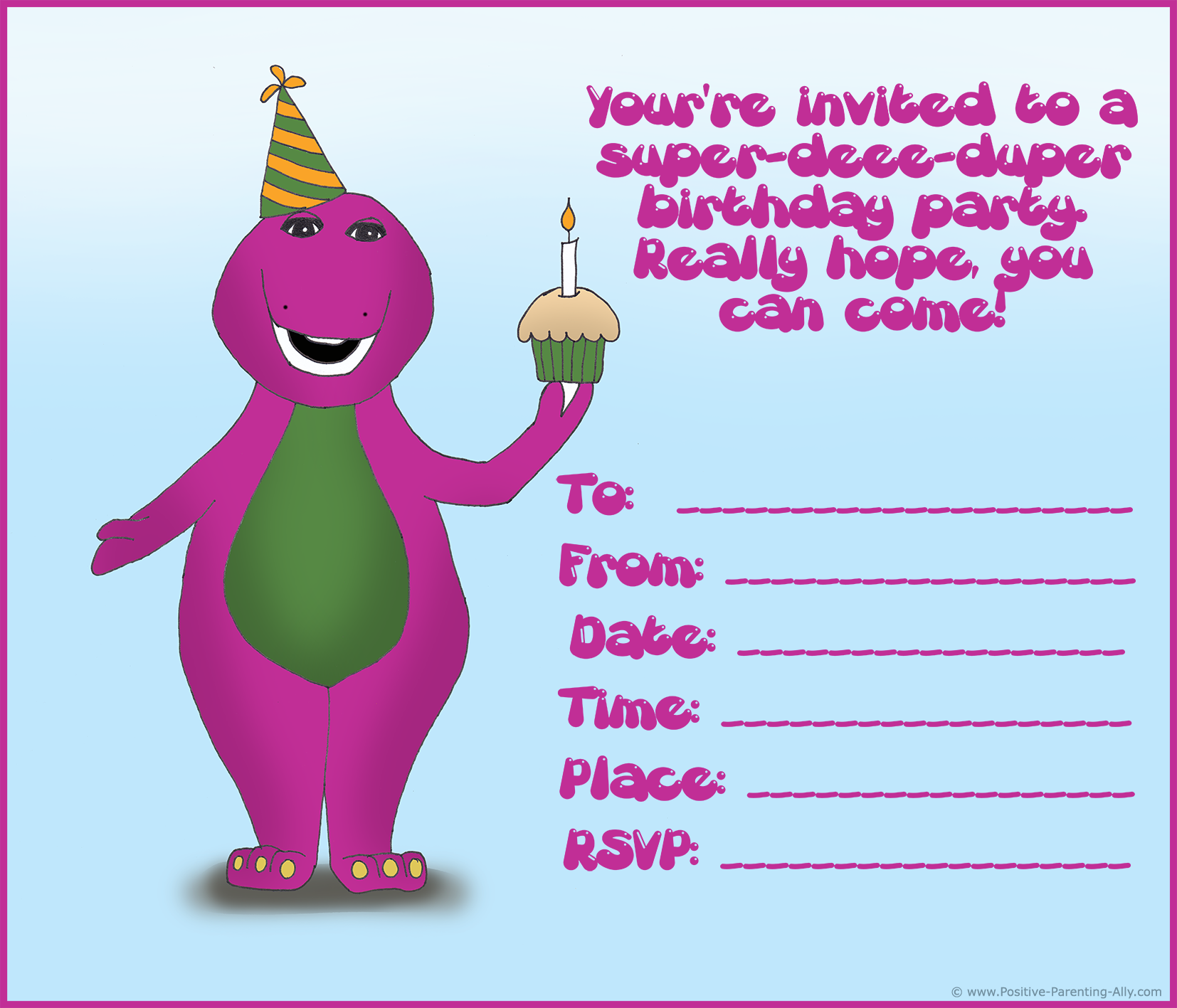 Gender Color - You don't need to get too complex with your party theme, but just have each of the kids come dressed in a gender specific color. Boys can dress in blue and green, and girls can dress in red or pink. Yellow is a unisex color, but all of these colors can make a fun theme for you when you create birthday invitations and the party itself.




Gender Bender - This sounds silly, but it can actually be a lot of fun. Instead of having all the kids dress up in a color of their gender, have them dress in a color belonging to the opposite gender. You will see handsome little boys in preppy pink and pretty little girls in boyish blue, and it will help the parents to get creative with their kids outfits.




Alphabet - If there is one party that is easy to throw, it is an alphabet-themed party. You will find that every party store has plenty of alphabet decorations, and it will make it easier for you to add a streamer or party banner for your birthday child. You can easily make an alphabet themed birthday invitation, as there are hundreds of them online that can give you great ideas.




One - Maybe it is your child's first birthday, so why not have a One-themed birthday party. Everyone has to come dressed in one item of the same color, and the birthday cake will be made in the shape of a one. The food served can be one of each item for everyone, and your birthday invitation can use One as a theme any way you want.

Feel free to download and use this first birthday party invitation for your kid's birthday party.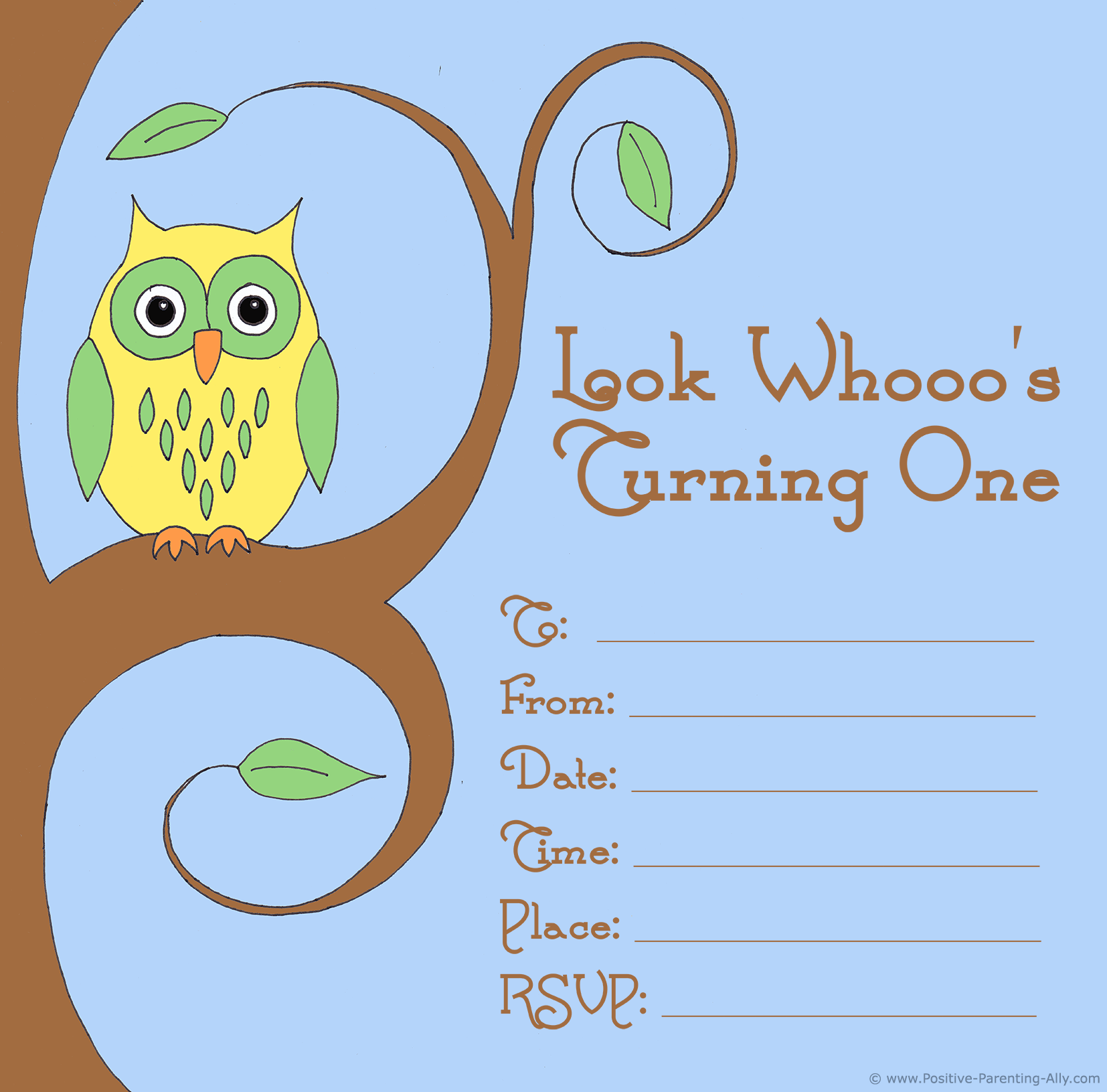 Feel free to use these creative theme ideas to help you create birthday invitations that are fun and good looking!


---
How to Create Birthday Invitations on Online Birthday Invitation Websites
If you want to know how to create birthday invitations, you may find that it is actually a lot easier than you might expect. The truth is that you don't need to use a fancy program like Photoshop, or even a simple one like Microsoft Word or Publisher. There are many sites that will allow you to make your own kids birthday party invitations.
They are very simply to use, and will be your best choice if you just don't have the time to spend figuring out how to use these more complicated programs. How can you create birthday invitations or make your own birthday invitations using these sites?
Step the First: Select Your Size - Most of the websites that will allow you to make your own birthday invitations will present you with a number of size options to choose from. The size of the card will depend entirely on you, as well as on the envelopes that you want to buy and the amount of paper you want to use.

Folded cards require a single piece of paper each card, while a postcard style invitation can be printed two to a page.




Step the Second: Choose Your Template - You will now be presented with all of the options of invitations that you want to work with. You will have dozens of even hundreds of invitations to choose from. Choose the colors that you like, as well as the style, font, and layout.




Step the Third: Work on Your Own - If you don't find a template that you like, take the time to design your own invitations using a blank sheet of paper and the tools that you are provided. You will be given a wide range of options for fonts, text sizes, styles, and shapes that you can work with, and you can whip up your own invitation easily if you don't find an invitation that you like.




Step the Fourth: Adjust the Card as Desired - Remember that the colors aren't the only things about the invitations that may need adjusting, but you will probably want to mess with the font size, the color of the text, the actual font itself, and many of the other elements on the card.

Most of these printable birthday invitation websites will allow you to alter the invitations to a certain extent, and will provide you with simple tools to make the best personalized birthday invitations according to your taste.




Step the Fifth: Download and Print - This is the part of the exercise where you save the invitation to your desktop, and print it out as many times as you want.

Some sites will charge you a membership fee and allow you to print as many cards as you want, while others will charge you a small amount per invitation.

Other sites will allow you to make your own birthday invitations for free, but you won't be able to customize them as much. Consider which is best before making the invitation, as that way you can easily download and print out the invitations once you're done making them.




Step the Sixth: Take It to Be Printed (Optional) - This step is for those that don't have a home printer, who don't want to use all of their ink, or who want to save some money.

Printing at a print shop can actually be a lot cheaper than printing at home, as you will end up using all of your colored ink on the birthday invitations (if they have a lot of color) and will need to buy fancy paper to print them out on.

Getting them printed at a print shop will usually be cheaper, and will save you from having to do all the cutting and folding.
See, just like that, it's simple and easy to create birthday invitations online! It will take a few minutes, and will not be too expensive.
For more inspiration and already made free printable birthday invitations, dive into one of the links below.

Your Positive Parenting Ally,
Birgitte
---

Want to stay in touch and get the latest news?
Sign up for my free newsletter
---
Parent Coaching
- For Inner Peace, Clarity and a Deeper Connection to Your Child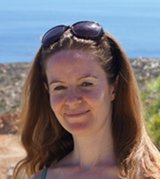 Being a parent can feel like a double-edged sword. Life with kids may feel like the greatest gift you have ever received, while at the same being hugely challenging, often leaving you confused, stressed and overwhelmed.
When we feel like this, we've lost touch with ourselves. We can't hear our own inner voice, and it's difficult to know what is 'right' for us and how to act.
I offer in-depth parent coaching to help you regain your balance and get back in touch with yourself. From a place of inner peace and clarity, your will find your own answers which will help you reconnect with your child from a place of unconditional love and acceptance.
Read more about my parent coaching here.